We Came, We Saw, We Beefed!
Well, for the third time Beef-Fest has been and gone. The weather was possibly the weakest thing, chuffing pissing it down all over that nice clean meat. However everyone was up for a party so we faced the elements, envigourated by our desire for partially cooked cow.
The night was one of random pissed-up excess. Memorable moments being Ood and The General taking bites of raw steak, the lawn resembling the campsite at Glastonbury, the moment when the rain stopped, singing round the piano and of course an overwhelming success by the competitors. 2002 - A Beef Palindrome featured more successful competitors than both previous Beef-Fest events put together.
The competitor results are as follows:

The Rock - Unable to attend due to dodgy wiring of manly Landrover. However the management agrees that the probability of him not achieving the quota in a non vehiculary disadvantaged state is equivalent to that of Captain Scarlet becoming good. - Honorary Victory Bestowed
The General - Victorious
Ood - Victorious
Sophie - Victorious (Lady Quota)
Spanners - Victorious
The Hipster - Victorious but it was only veggies and cod
Pimpin' Gangta Emmy G - Victorious (L.Q.)
Vertigo - Victorious (Man Quota!)
The Enchanted Monkey - Victorious
Mosha - Victorious (L.Q.)
Montu - Victorious
The Big 'O' - Victorious (L.Q.)
Captain Random - Ate quiche thus causing irreperable manhood damage - Shrew Ticker
Evil - Ditto - Spaba Boy


We also had five additional competitors with mixed successes:

Lisa - Victorious (Lady quota of quarter-pounders)
Jay - Victorious (Man quota of quarter-pounders)
Jase - Ate a small amount of chocolate - Cheese Thief
Helene - Did not bring required bovine quota - Turtle Stroker
Coops - Veggie. Ate some soya - Olympic Walker

Sequence of Events at "2002 - A Beef Palindrome"
1730: Preparation completed. Lots of forlorn gazes out the window at the rain.
1800: Ood and Jay arrive. Three barbecues lit 'cos damn.
1830: Initial 'getting our beef on'.
1900: Umbrellas broken out in defiance of the precipitoral aspect to the evening.
1930: Mosha finishes her beef and goes to bed. First to achieve quota but indigestion city, man.
2000: Steps taken against rain involve fixing a sheet of bin-bags between the fence and the washing line with drawing pins and clothes pegs.
2030: Pimpin' Gangsta Emmy G and The Big 'O' appear after an hour long absence wearing seventies style Scooby-doo outfits. Really quite amusing.
2100: Sophie arrives with home-cooked bread. Magnificent steak sandwiches. Ooh momma.
2130: The rain stops!!!!!!!!
2200: Alia arrives with a box of Miniture Heros. Unfortunately most of those present were busy eating ALL the beef.
2230: Getting a bit dark so the man-flares (garden candles) are lit. They stay lit for a good six seconds.
2300: Spanners is the last to achieve the quota but that's only due to intake of mixed grill throughout the evening.
2330: Most barbecuers move indoors as barby-goodness has been enjoyed to its optimal level.
0000: Drunken karioke is embarked on with Jase on Piano, The General on guitar.
0030: Hippy doing a LOT of freestyling on the microphone in a Beastie Boys stylee.
0100: Watch US wreck da mic.
0130: Psyche. The party splits - some go home, some crash on the sofas, those more enlightened get down to some Motown in the kitchen.
0200: Evil rejoins festivities after his quiche but it's gone a bit quiet so him, Spanners, The Enchanted Monkey and Jase chat philosophy over a cup of chai.
0230: Jase's taxi doesn't show up. So that'll be four people sleeping in the living room.
0300: Sleep is had, "2002 - A Beef Palindrome" is over.

Selected Photographical Goodness From '2002 - A Beef Palindrome'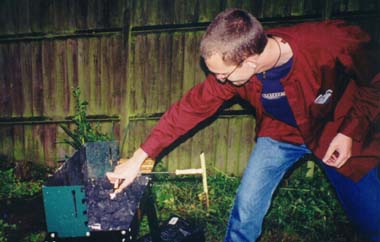 The first barbecue is lit by Spanners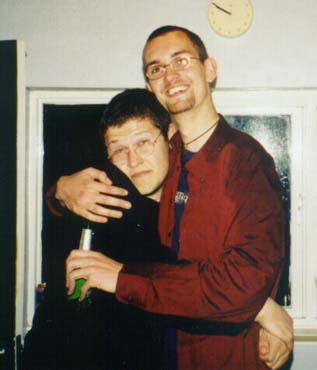 The Beef-fest hosts enjoy a bonding moment
Click here to download the special limited edition "2002 - A Beef Palindrome" promotional material